is backordered. We will ship it separately in 10 to 15 days.
Fruit of The Loom Jogging Bottoms Open Hem & Pockets 64032 | 3 COLOURS | S - 2XL
Product Description
Fruit of The Loom Jogging Bottoms Open Hem & Pockets 64032 | 3 COLOURS | S - 2XL
BLACK | CHARCOAL | HEATHER GREY

Sizes  Small  |  Medium  |  Large  |  XL  |  2XL


WE ARE A GENUINE

STOCKIST
A Superb Open Hem Jog Pants from the Fruit of the Loom range. Whatever you're looking for in the world of promotional garments,
you'll find one brand's got it all: Fruit of the Loom. Today's Fruit range has more styles, choice, sizes and colour than ever before.

For colour and choice from a brand you can always count on, Fruit of the Loom offers you Everything Under the Sun

80% Cotton & 20% Polyester

Drawcord fastening
Side pockets
Size 

S

M 

L 

XL 

2XL 

Tol

 

Waist (inches)

28

32

35.5

38

42

2

Inseam * (cm)


79.5 

 

80.5

81.5

82.5 

82.5

2.5

Outseam ** (cm)

106


108

110

112

113

2.5

 
* Measure from crotch seam to cuff hem of garment 
** Measure from waistband edge to cuff hem of garment


Care Instructions
Before washing, always look at the care label and carefully follow the instructions. Most good quality detergents, washing machines and fabrics are
manufactured to ensure that when the stated instructions are adhered to and the garment is washed according to the said temperature
and dried as per the procedures mentioned; they will wash well and look good after each wash.
The following points should be used as guidelines for all garments:
Before washing, close all zips, undo buttons, check pockets for loose or sharp objects, flatten out collars and cuffs.
Always refer to the Label before Washing.
Always check to ensure the Washing Machine is not overloaded.
Use a good quality detergent and ensure that the right amount of detergent is used.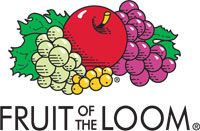 Fruit of the Loom offer a comprehensive palette to suit any corporate identity, promotion, sports team or school uniform.
And to make life as easy as possible, our colours are consistent, coordinating and complementary across our Men's, Ladies and Kid's ranges.
At our huge garment dyeing facility in Morocco, we only use the very best eco-friendly dyes and our excellent colour consistency is achieved through vigorous testing,
batch after batch, so you can be sure our colours match order after order. Use our search tool on our website to find exactly what you need.
From core favourites to classic neutrals and bold brights, we offer colour lovers everything under the sun!